13 December, 2017
SOPPINA HULI TOVVE….an opos recipe as well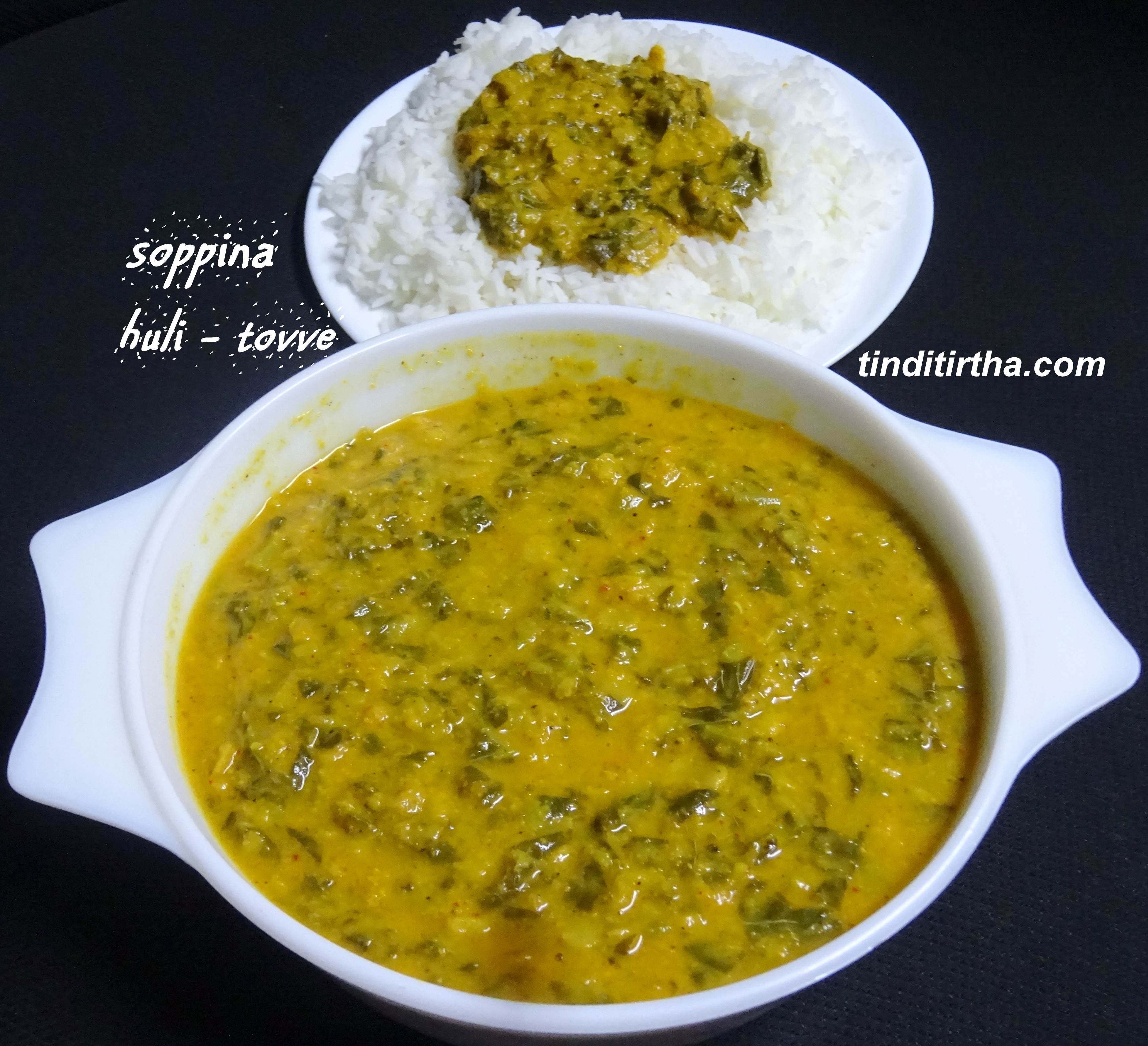 Posted in :
HULI / CURRY / VEGETABLE CURRY / GOJJU / TANGY CURRY / DAL / TOVVE / VEGETABLE KOOTU / SAGU
,
OPOS- One Pot One Shot
on
by :
Divya Suresh
Here 'soppu(soppina)' is a kannada word for 'green leafy vegetable' and 'huli tovve' means curry made with special ground masala in addition to the masala powder (huli pudi/sambar powder) what we regularly use. This huli tovve is particularly made using a kind of amaranth leaves (dantina soppu) which we get in Karnataka, But here as we don't get dantina soppu, I use harive soppu/amaranthus leaves/chaulai saag, which is available both in red and green color. And we use Toor dal/arahar dal/Pigeon Pea along with this. This curry/huli/dal is made little more thick, by adding more quantity of toor dal compared to the huli, which we make regularly. Overall it is a very healthy, tasty protein & vitamins rich recipe as well. More over it's a diabetic friendly recipe. We can relish this curry/huli/dal combining with rice, Dalia, Phulka, rice rotti and dosa as well.
You can make this curry/huli like in the method shown below or you can put everything in the cooker ie… dal, leaves, masala, tamarind juice and salt… all at once and pressure cook it till one whistle like we do in OPOS method. I do it in both  the ways.
Ingredients :
Green leaves – 4 – 5 cups
Toor dal/Pigeon Pea/togari bele – 1&1/2 cups
Tamarind juice (thick) – 2 tbsp
Salt to taste
Water – 5 to 6 cups or as per consistency
Ghee – 1/2 tbsp
Mustard seeds – 1/4 tsp
For masala :
Grated fresh coconut – 1/2 cup (loosely packed)
Huli pudi/sambar powder – 4 to 6 tbsp (adjust)
Turmeric powder – 1/2 tsp
To roast :
Coriander seeds – 2 tbsp
Cinnamon – 1&1/2 inch stick
Green chilli – 2 to 4
Black pepper – 1 tsp
PROCEDURE :
Boil water in a pressure cooker, add in rinsed dal/lentil and the green leaves and pressure cook it till one whistle and allow it cool
Meanwhile dry roast all the ingredients listed under the heading 'to roast'
Gather all the ingredients listed under the heading 'for masala' in a mixie jar and also add the roasted masalas into it and grind it using little water
Now add in salt, tamarind and the ground masala to the cooked lentil-leaf mixture and boil it while combining everything well
Prepare tempering using ghee and mustard seeds and pour it over the prepared curry/huli/dal
Serve this dal/curry/huli with the main dish of your choice