6 January, 2018
WHOLE WHEAT MILK HALWA…. a diabetic friendly recipe with the goodness of jaggery & walnuts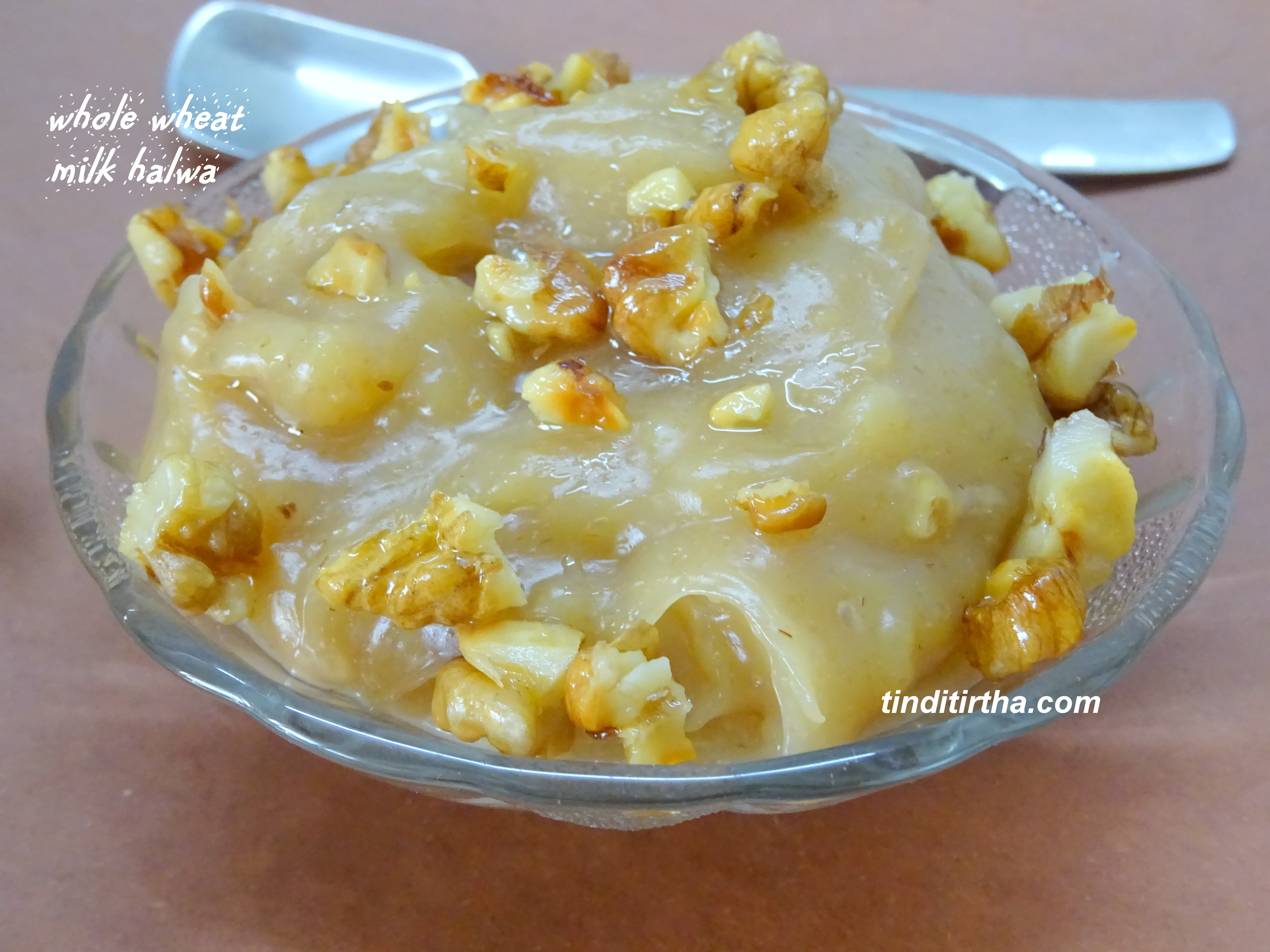 Posted in :
DESSERTS
,
DIABETIC FRIENDLY RECIPES
,
SWEETS / UNDE/LADDU / BURFI / HOLIGE/POORAN POLI / HALWA
on
by :
Divya Suresh
Just made a twist in our own Karnataka sweet dish 'godhi haalubayi'. Here in north India and everywhere for that matter, in all the Gurudwaras they make a offering to God, a sweet dish using wheat flour ie…. Kada Prashad. To make it soft they add lot of ghee into it. But somehow it strike my mind that, if we use the same wheat milk, which we use to make haalubai, it may turn out exactly like Kada Prashad and I was right to some extent, as I found it exactly like Kada Prashad ie… very soft but not sticky and that too very minimum usage of ghee in it. So very gladly sharing the recipe of the same. For people of south India it is just a twist in the making of haalbai except for the addition of walnuts and little ghee in that.
Please refer in my blog ⇒ Whole wheat milk fudge/Godhi haalbayi for more details and pics
Ingredients :
Whole wheat or broken wheat – 1/2 cup
Jaggery – 1 cup
Ghee – 1 tbsp
Walnuts – 10 nos.,
Water – 2 cups
PROCEDURE :
Soak the wheat for whole night or for 10 to 12 hours in one & half cup of Potable water (drinking water)
Next morning or after 10 to 12 hours, grind the soaked wheat along with its water to a very fine consistency
Pass it through the strainer and collect the milk
Meanwhile dissolve jaggery in the remaining 1/2 cup of water
Transfer the collected wheat milk to a pan/kadai, add in the strained jaggery syrup and start heating it on medium flame while stirring continuously
You need to stir it continuously for it gets thick very very fast.
Meanwhile heat ghee in a tadka pan and add in the broken walnuts and roast them well
And when the wheat milk mixture becomes thick and leaves the edges of the pan/kadai,  and if it won't stick to your wet fingers then add the prepared tempering to it
Combine everything well and serve it hot