7 January, 2018
MENTHYADA SIHI HUGGI….. jaggery mixed sweet bath using rice and fenugreek(sprouted) seeds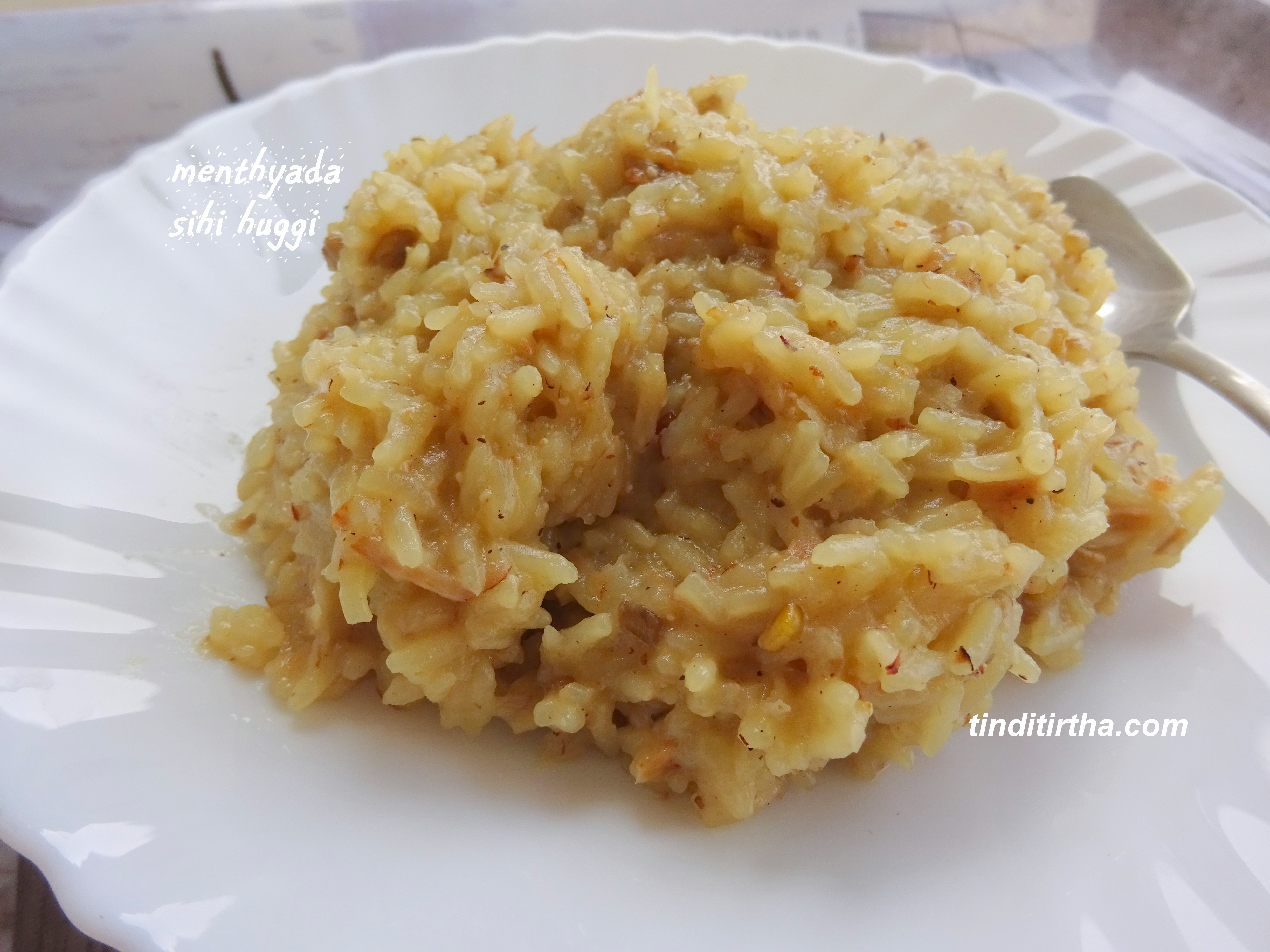 Posted in :
SWEETS / UNDE/LADDU / BURFI / HOLIGE/POORAN POLI / HALWA
on
by :
Divya Suresh
Menthya means 'fenugreek seeds', sihi means 'sweet' and huggi translates to 'Khichdi'. This is a special dish prepared compulsorily for new mothers, during 2 & 3 month after the delivery of the baby, in some communities, to improve their overall health, blood, strength and for providing Vitamins. As such also it is a very healthy dish to relish on for the people of any age group. Though a good amount of fenugreek seeds are used, it won't taste bitter. Though we can use plain fenugreek seeds, here I have used sprouted fenugreek seeds which adds to making it more beneficial for health. The ingredients used are all dry ones and good for health, ie… jaggery, dry coconut, poppy seeds and almonds.
Note : TIP :  Soak fenugreek seeds in some water at night and next day morning heat the pan and dry roast the soaked fenugreek seeds, it will sprout immediately.
Please also do check ⇒ huggi-gojju , rava/rave huggi/khara pongal , hitakavare sihi huggi , sweet pongal
Ingredients :
Fenugreek seeds – 1 & 1/4 tbsp
Rice – 1/2 cup
Water – 1 & 1/4 cup
Jaggery – 3/4 cup
Water – 1/2 cup
Others :
Ghee – 1 tbsp + 1 tsp
Almond flakes – 2 tbsp
Poppy seeds – 1/2 tbsp
Grated dry coconut – 1/4 cup
Cardamom powder – 1/8 tsp
Milk – 1/2 cup (adjust, I have used this much)
PROCEDURE :
Boil 1&/4 cup of water in a pressure cooker, add in rinsed rice and sprouted/Plain fenugreek seeds and cook it till one whistle
Dissolve jaggery in 1/2 cup of water, strain it to remove the impurities and keep it aside
Heat ghee in a pan, add in almond flakes, poppy seeds, grated dry coconut and fry them a little
Now add in jaggery syrup and cooked rice-methi mixture, combine everything well
Add in milk and cook till it absorbs the milk and becomes thick, while stirring continuously
Add in cardamom powder and 1 tsp of ghee , remove from the fire