11 January, 2018
TAMATAR/TOMATO KADHI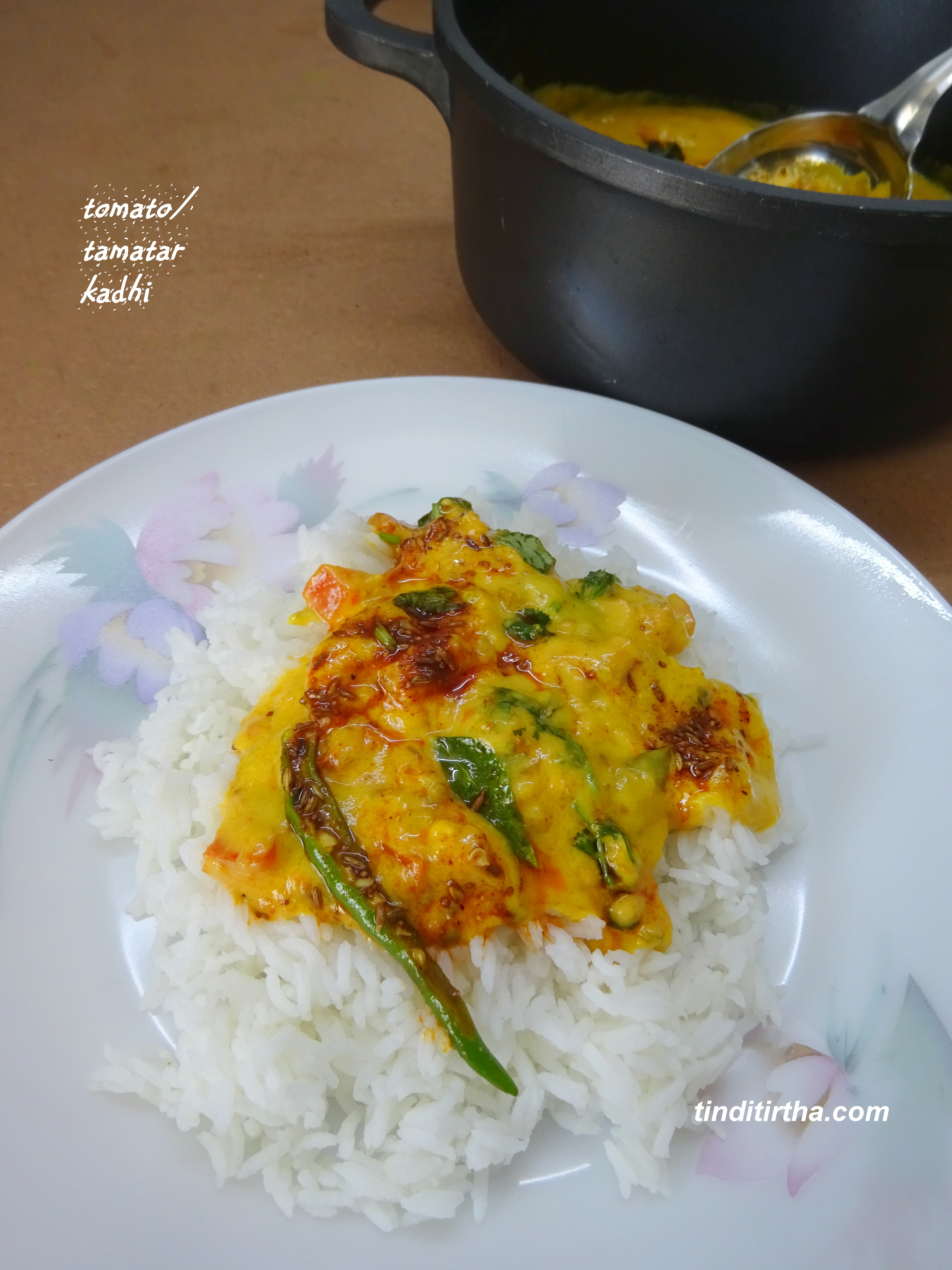 Posted in :
KADI-PAKODI / MAJJIGE HULI / RAITA / MOSARU SAASIVE
,
RICE ITEMS - PULAV / MASALA BATH / BISIBELE BATH / CHITRANNA
on
by :
Divya Suresh
Now a days plenty of good quality tomatoes are available in the market, so trying to make use of it to the maximum. I personally like this kadhi very much. It goes very well with our own Karnataka special 'akki rotti' (rice roti) as well, other than roti, phulka, chapati, paratha and rice. I have used chickpea flour instead of gram flour and it is very easy, quick and simple recipe to make.
Ingredients :
Tomatoes – 3 big
Green chillies – 2
Oil – 1/2 tbsp
Cumin seeds – 1/2 tsp
Fenugreek seeds – 1/2 tsp
Mustard seeds – 1/4 tsp
Coriander powder – 1 tsp
Turmeric powder – 1/2 tsp
Ginger paste/grated – 1/2 tbsp
Curry leaves – 1 string
Coriander leaves – 1 tbsp
HIng – 1/4 tsp
salt to taste
Others :
Chickpea flour – 2 tbsp (you can also use gram flour)
Curd – 1 cup
Water -1 cup
Salt to taste
For tempering :
Ghee – 1 tsp
Cumin seeds – 1/2 tsp
Green chilli -1 (Slit)
Red chilli powder- 1/4 tsp
Curry leaves – 1 string
PROCEDURE :
Chop 1&1/2 tomato, and make coarse paste of remaining 1&1/2 tomato along with green chilli
Gather together 1 cup water, 1 cup curd, salt and 2 tbsp chickpea flour in a mixie jar and blend them well (so that there will not be any lumps)
Heat oil in a pan and add in all the masalas/spices listed under the heading 'ingredients' and allow them to splutter
Now add in chopped and coarsely ground tomato and saute well till little soft and dry by adding required amount of salt
Now add in chickpea flour + curd mixture while stirring continuously on high flame
Now reduce the flame and allow it to cook for 5 minutes, keep stirring in between
In the mean time prepare tempering using the ingredients listed under the heading 'for tempering'
After 5 minutes remove the kadhi from the fire and pour the prepared tempering over it
Serve hot with roti, chapati, phulka, paratha, rice etc