4 February, 2018
MENTHYA SOPPINA TOGARI NUCHHINUNDE steamed savory dumplings using pigeon peas & fenugreek leaves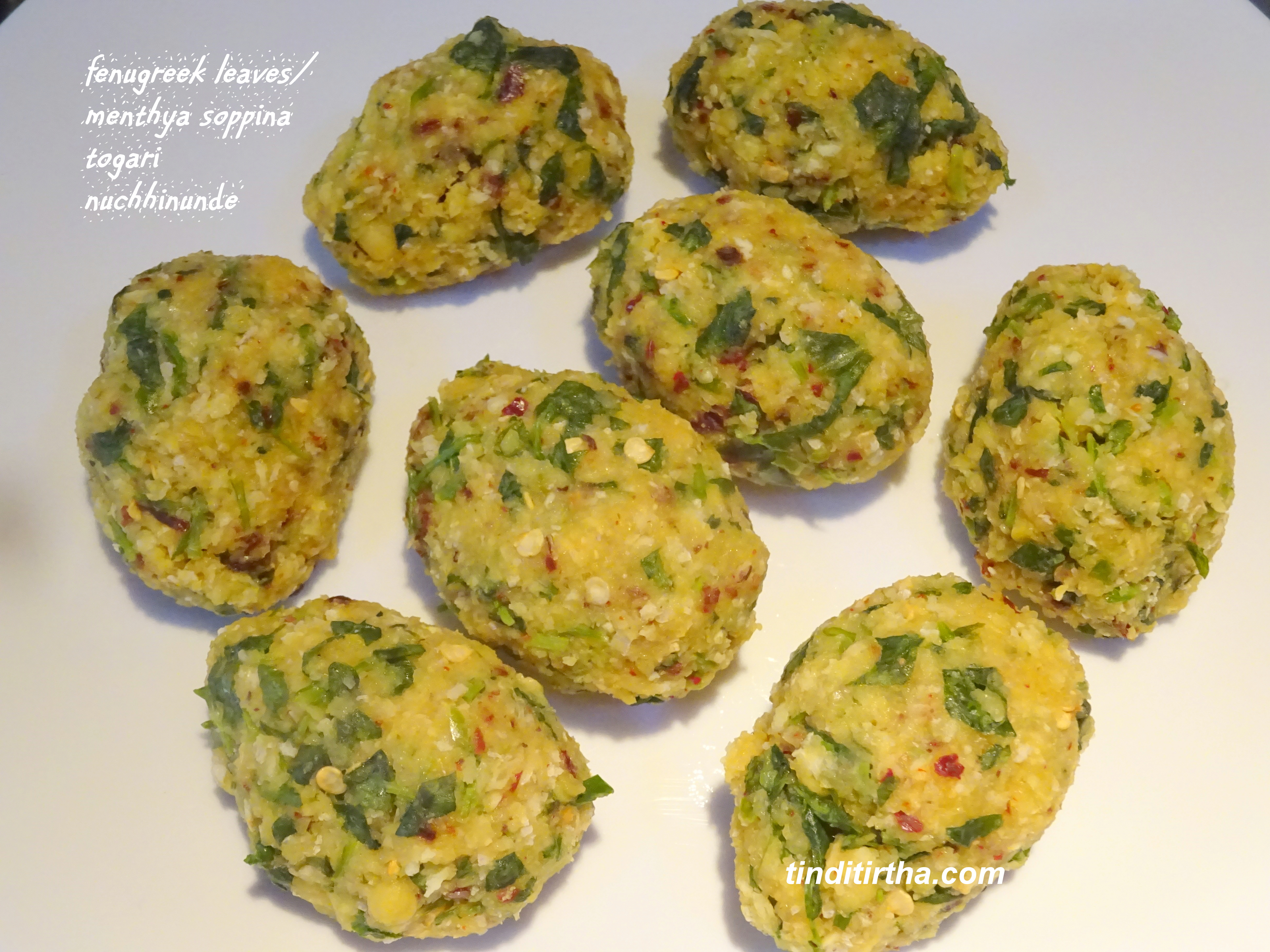 Posted in :
DIABETIC FRIENDLY RECIPES
,
SNACKS / BAKED / DEEP FRIED / STEAMED
on
by :
Divya Suresh
When some thing strikes my mind, I surely try out that recipe and it definitely turns out too good ! may be by God's grace ! So this is one such recipe. Neither I have ever used fenugreek leaves/methi in this particular dumpling nor I have seen anybody doing so. Hmmm…. so it's a kind of my innovated recipe. The below mentioned quantity of ingredients yielded 8 nos., of dumplings of the shown size.
Ingredients:
Pigeon peas/ Toor dal – 3/4 cup
Fenugreek leaves/menthya soppu – 1/2 to 3/4 cup (chopped)
Green chilli – 3 nos., (hot)
Red chillies – 3 nos.,
Asafoetida(Hing) – 1/4 tsp
Grated fresh coconut – 1/2 cup
Salt to taste
PROCEDURE:
Wash  and soak toor dal for 2 -3 hours
Discard all the water and grind the soaked lentil/dal coarsely adding chillies, salt and hing
Transfer to a bowl and add in chopped fenugreek leaves and coconut and combine everything well
Make oval shaped dumplings and steam it for 10 – 12 minutes
Serve hot