13 October, 2015
TOGARI-TARAKARI NUCHHINUNDE/ STEAMED DAL-VEGETABLE DUMPLINGS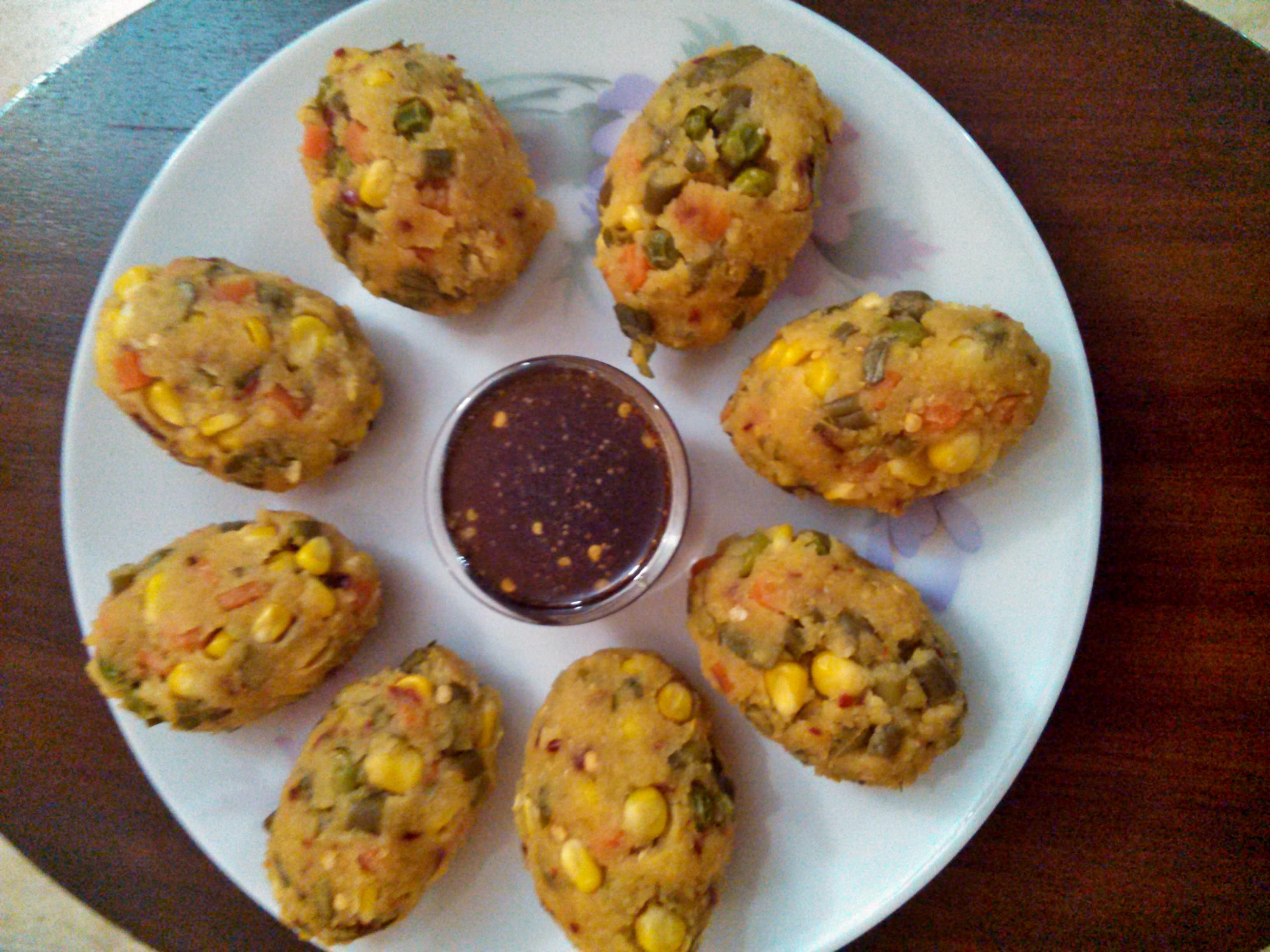 Posted in :
SNACKS / BAKED / DEEP FRIED / STEAMED
on
by :
Divya Suresh
Generally we make this (nuchhinunde) with only dal. But I tried it by adding vegetables. Then I realized its a great idea. It can be eaten with any chutney or sauce. Here I have served it with sweet (tamarind & dates) chutney.
Below is the pic of nuchhinunde using only dal/lentil ie…. no vegetables used, You need to make just one change, add more fresh coconut ie… almost 1/2 cup of grated coconut can be added.
Ingredients:
Pigeon peas/ Toor dal – 1cup
Green chilli – 2 nos.,
Red chillies – 4 – 6 nos.,
Asafoetida(Hing) – 1/4 tsp
Grated fresh coconut – 2 tbsp
Curry leaves (chopped) – 2 tbsp
Salt to taste
        Vegetables:
French beans – 2 tbsp
Carrot – 2 tbsp
Fresh green peas – 2 tbsp
Corn kernels – 1/2 cup
Broccoli – 2 tbsp
        PROCEDURE:
Wash  and soak toor dal for 2 -3 hours
Grind the dal coarsely adding chillies and hing
chop all the vegetables and cook for 5 minutes and let it cool
Add coconut , curry leaves and salt to the dal
Add cooked and cooled vegetables to the dal mixture and combine well
Make oval shaped dumplings and steam it for 10 – 12 minutes
Serve hot