17 August, 2016
KESAR – PISTA COCONUT BURFI / KOBBARI MITHAI / NARIYAL KI BURFI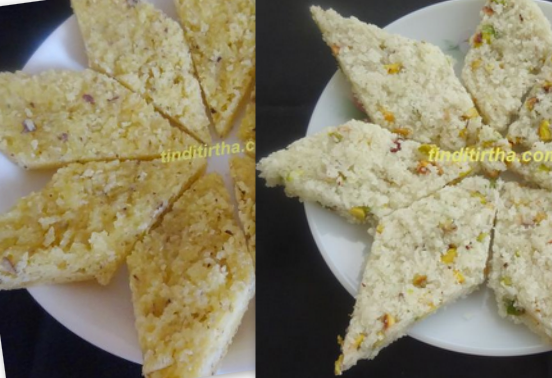 Posted in :
SWEETS / UNDE/LADDU / BURFI / HOLIGE/POORAN POLI / HALWA
on
by :
Divya Suresh
This is one of our favourite burfi's. I learnt it from my Mother/Grand mothers. My Mother-in-law & her co-sister ( My Taiji saas ) were experts in making this coconut burfi. However I use very less sugar compared to them all. Since very long I wanted to try this burfi by adding Pista and with Walnut. Today I tried it with Pista….& some other time I'm planning to try it with Walnut. It is easy and prepared with very few ingredients. I would not say it is quick… but comparatively less time consuming i would like to say…… I have made in two batches… One using only saffron strands & one more with only Pistachio. Here is my method of making Coconut Burfi / Kobbari Mithai.
        Ingredients :
Grated fresh coconut – 3 cups
Sugar – 1&1/2 cup
Water – 1 cup
Saffron Strands – 1/4 tsp
Pistachio – 1/2 cup ( chopped )
Cardamom powder – 1/8 tsp
Ghee – little to grease the plate
        PROCEDURE :
Soak the saffron strands in 1 tsp of water
Grease the plate with ghee and keep it aside
In a heavy bottomed pan add grated coconut, sugar & water and…bring it to boil by stirring continuously
It becomes thin as sugar begins to melt, keep stirring till it becomes thick
The mixture turns gooey and you can see that bubbles are formed… Keep stirring
Add soaked saffron strands OR chopped pista & cardamom powder into it and combine well
After a while bubbles reduce and the mixture begins to leaves the sides of the pan & comes out as a whole
At that stage transfer the whole mixture into the greased plate at once
Spread it properly & cut it into desired shape
Let it cool & store in a air tight container.